MSF Engineering is a family owned business, established in 1990 in the heart of the West Midlands.
We have been a preferred supplier to the automotive industry for over 25 years and have been part of the supply chain for all of the major automotive manufacturers in the UK, as well as many in Europe, Asia and the USA.
The core of our business is the manufacturing of turned & machined fittings, latch plates and brackets, which are used in the production of fluid transfer assemblies found in vehicles. We also provide tig welding and on site assembly services to complement this work.
We are proud to be at the forefront of prototype design, with much of our work being used on cutting edge vehicles, pre-production.
In recent years we have become an authority in the machining and manipulation of stainless steel, which is now used more frequently in the automotive industry.
We are able to offer our customers a full service, ranging in various sizes from prototype batches right through to production volume.
Over the years the nature of our business has developed, expanded and where necessary changed to meet the demands of the market.
This ability to diversify has enabled us to gain expertise in many areas and has given us the reputation for high quality and reliability, for which we are extremely proud of.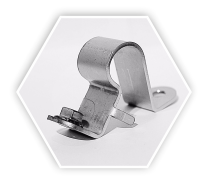 "Proud to be at the forefront of prototype design"
Along with our work in the automotive industry we have supplied many companies within other sectors such as:
Supplying the water utility industry with the unique and bespoke tools they require, to complete their demanding tasks.

We have used our skills to manufacture parts used in the telecommunications industry, using varying materials such as copper and exotic plastics.

Our fabrication work has led us into being one of the UK's premier artificial sports pitch cleaning equipment manufacturers.

We were the early pioneers in the reclamation and recycling of components that were encapsulated in polyurethane, PVC, plastic and foam. We developed an innovative process which enabled us to recover parts that failed quality control, thereby reducing costs, waste and environmental damage. Key examples of the parts recovered were steering wheels, gear knobs, bumpers and medical equipment.